Aakash BYJU's Synchro Program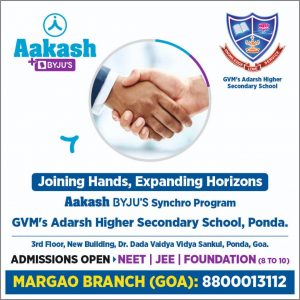 Introduction
Commenced in 2015, works from 0800 to 1700hrs; every year 100% result Integrated course Goa Board, coaching JEE (Engineering) & NEET (Medical) and Olympiad Exam Every medical & engineering aspirants gets entry in respective selected colleges in Goa & other states Our students are placed in highest reputed colleges in Goa & other states having credit in sports, exhibitions and other competitions including 1st rank in Goa Board Exam and 1st in both Goa & Maharashtra Exams Video Player
Principal:
Mr. Avadut Kamat
Institution was founded in:
2015
Courses/ programs offered:
Std XI & XII (Integrated course)
School affiliated to:
Goa Board of Secondary & Higher Secondary Education
Address of the School:
Dr. Dada Vaidya Vidya Sankul, Ponda, Goa
Contact No.:
0832 2315333/
Email:
gvmadarshhss2017@gmail.com
Certificates/ Awards received during 2020- 2021 & 2021 – 2022:
Topping Goa Board HSSC exam in Science Stream
Scoring highest percent of marks in Goa Board HSSC Exam in Sanskrit & Computer Science
Second place in Tech Fest Science Exhibition
1st Place in chess tournament held by Directorate of Sports
2nd Place in BIOTAG Environmental Quiz
Science Talent Search Exams by SCERT
Rajiv Gandhi scholarship for two students
| | | |
| --- | --- | --- |
| Sr. No | Name of the staff | Designation |
| 1 | Mr. Avadut Kamat | Principal |
| 1 | Dr. P.Y.S. Talaulicar | Chemistry (Practical) |
| 2 | Mrs. Anagha Kapadi | Teacher Grade – I (Sanskrit) |
| 3 | Dr. Aruna Bhadauria | Teacher Grade – I (Hindi) |
| 4 | Ms. Ankita Naik | Teacher Grade – I (Mathematics) |
| 5 | Mrs. Grazia Gonsalves | Teacher Grade – I (English) |
| 6 | Mrs. Meena Sardesai | Teacher Grade – I (Physics Theory) |
| 7 | Ms. Rita D. Desai | Teacher Grade – I (Chemistry Theory) |
| 8 | Mrs. Siddhi Kamat | Teacher Grade – I (Biology Theory) |
| 9 | Mrs Priyanka Sawant | Teacher Grade – I (Biology Practical) |
| 10 | Ms Gayatri P. Priolkar | Teacher Grade – I (Physics Practical) |
| 11 | Mr. Nikesh Prabhu | Teacher Grade – I (P.E) |
PTA General Body Meeting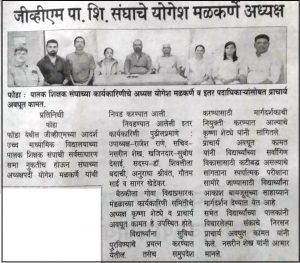 Click to Enlarge
The PTA general body meeting was held on  25/6/2022.Parents of all students attended the meeting. The Meeting was chaired by ex-officio Pri. Shri. A. K. Kamat. Chairman working committee Shri. Krishna Shetye was also present on the dias. Pri. Kamat welcomed the parents. He also made parents aware of the importance & duties of PTA. Adarsh Hr. Sec. School is integrated with Akash /BYJU'S.the coaching of Akash for preparing the students for competitive exams like NIIT &  JEE etc. Is adjusted in the morning session only. So that the student gets a minimum 5to 6 hours in the evening to study. & for that purpose parents have to play the important role to give them an atmosphere conducive for their studies. Chairman working committee shri Krishna Shetye welcomed the parents in GVM in short he explained the parents how GVM tirelessly working for the cause of education for last 113 years. He advised the parents not to stress the children by forcing or dumping thighs they don't like. And to take care  of their health. He also told the parents in case of any queries or difficulties to approach him he is 24/7 available for the cause. The PTA committee was elected for the year. Secretary Nasreen Shaik proposed a vote of thanks.
Launching of Aakash BYJU CLASSES at adarsh vidyamandir on Sunday 16th May 2022
International yoga day
The international yoga day was celebrated in Adarsh Hr. Sec. School. All 60 students, teaching & non teaching staff also participated along with the Principal A. K. Kamat.  Dr. Bhadhadauria, Yoga teacher conducted the yoga session nicely.
https://www.facebook.com/watch/?v=587138786027676
Launching of Aakash BYJU CLASSES at adarsh vidyamandir on Sunday 16th May 2022