Introduction: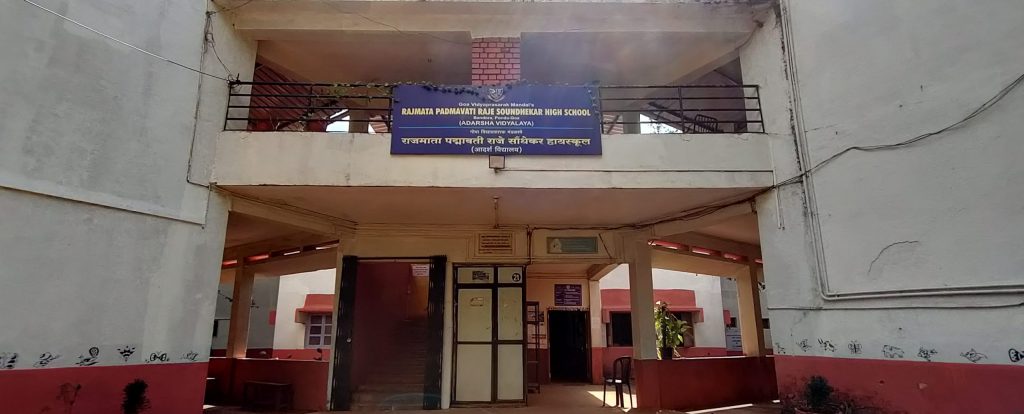 This school is situated in the lap of natural and beautiful environment. We have trained experienced team of teachers and office staff who work with enthusiasm and dedication. Institution was founded in 1961.
Courses/programs offered:
we teach students from KG to Std Xth
School affiliated to:
Goa Board
Subject taught:
English, Hindi, Marathi, Konkani, Maths, Science, History, Geography, Art, P.E, Computer – From Vth To Xth and Food Processing for Std X
G.V.M'S R.P.R.S HIGH SCHOOL BANDORA PONDA GOA 2022-2023

Sr. No
Name of the Staff Member
Subject Taught
1
Mrs.Cecilia D'Lima
English
2
Shri. Nagesh B. Phadke
Hindi /Marathi / Konkani
3
Mrs. Sneha Verenkar
Maths / science
4
Mrs. Dhanashree S. Patil
English / History
5
Shri.Dayesh Tilve
Maths / science
6
Miss. Smita M. Devlatkar
Hindi /Marathi
7
Mrs. Shodhan K.S. Khandeparker
English/History/ Science / EVS
8
Mrs. Reshma Bhat
English/ Geography
9
Mr.  Rama M. Tari
P. E
10
Mrs. Mamta alias Gauri Naik
computer / Maths
11
Shri. Anant S. K. Bambolkar
Art/ Konkani
Toppers of GVM's Rajmata Padmavati Raje Soundhekar High School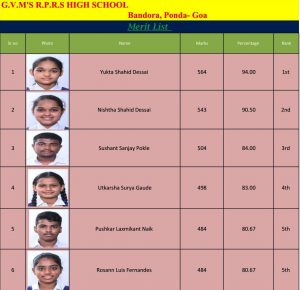 Click here to view Report of Activities 2021-2022
Address: Ramnathi Bandora Ponda Goa.
Contact Number : 9823134275
Email Id: gvms.rprs61@gmail.com
Prudent Media- A beautiful wall painting by Students of RPRS School
First prize winning Ghumat Arti presentation by students of GVM's R.P.R.S. High School Bandora
Felicitation of Students of SSCE Batch 2021-2022
R.P.R.S High School (Aadarsh Vidyalaya) Bandora ,felicitated its students of SSCE Batch (2021-2022) on 20th June 2022, the 60th Foundation Day of the school. The gathering was welcomed  by the Headmistress Mrs.Cecilia D'Lima. It was largely attended by  Ex Headmasters /Headmistresses and Ex teachers of the institution,present Headmistresses and representatives of different schools of G.V.M's. Secretary  of G.V.M's General Body Shri. Ajit Kerkar and Chairman  of G.V.M's Managing Committee  Shri Krishna Shetye  ,and Vice-Chairman  Shri. Ashok Nagvenkar  attended the function. The Chief Guest for the function was Shri Ramkrishna Alias Sudin Dhavalikar , Honourable Minister for Power , New and Renewable Energy and Housing and Ex Headmistress  of R.P.R.S H/S Mrs.Lucia Dias was the Guest of Honour. Agricultural Officer Shri. Nagesh Komarpant supplied saplings on the occasion which were distributed at the hands of the Chief Guest.