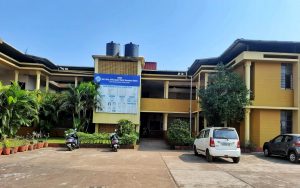 History
'Let noble thoughts come to us from every side'. It was with this noble motto, that our school was established in 1975. Our School aims at encouraging the habit of critical thinking and keeping minds open to new ideas which help to bring about much needed changes in accordance with the passage of time. Our school strives for all round development of its students, promoting excellence in the field of academics, sports and cultural activities. It aims at creating citizens with a strong moral character, noble values, self reliance with commitment and dedication towards their cause, thus leading to fruitful lives.
Principal:
Ms. Anita Bandodkar
Complete Address of the School:
G.V.M's Smt. Nelly Joildo Aguiar Higher Secondary School, Farmagudi, Ponda- Goa.
Contact numbers and email id:
(0832)2335138
8446441979
Email id: gvmssnja@gmail.com

Institution was founded in
1975
Courses/programs offered:
Science,
Commerce,
Arts,
Vocational: Industrial Management, Office
Management, and Electronic Technology.
College/School affiliated to:
Goa Board of Secondary and Higher Secondary Education.
Certificates/ Awards received during 2020-2021 and 2021-2022:
1) 2nd Place in Juniors [1R] category in the 12th SAG State Level Archery Championship 2021-22.
2) 3rd Place in Music Instrument – Traditional Folk, Kala Utsav 2021 State Level Competition by Goa Samagra Shiksha.

General Stream
| Sr. No. | Name of the Teacher | Designation | Subjects Taught |
| --- | --- | --- | --- |
| 1 | Ms. Anita Bandodkar | Principal | Accountancy |
| 2 | Mr. A.S. Mether | Vice Principal | Mathematics |
| 3 | Mr. S.G.Phadte | Teacher Grade I | Chemistry |
| 4 | Dr. Geetha Shastri | Teacher Grade I | English |
| 5 | Ms. Maria Gracias e Fernandes | Teacher Grade I | Biology |
| 6 | Ms. Shaila V.Kulkarni | Teacher Grade I | English & Psychology |
| 7 | Dr. Wilson Vaz | Teacher Grade I | Physics |
| 8 | Mr. R.G. Bhat | Teacher Grade I | Geography |
| 9 | Ms. Sabrina Gomes | Teacher Grade I | Economics |
| 10 | Ms. Yheula Vaz | Teacher Grade I | English |
| 11 | Ms. Sangeeta Abhyankar | Teacher Grade I | Biology |
| 12 | Ms. Darshana Parsekar | Teacher Grade I | Chemistry |
| 13 | Ms. Cirilia Fernandes | Teacher Grade I | Mathematics |
| 14 | Ms. Kirti Dhavalikar | Teacher Grade I | Mathematics |
| 15 | Ms. Sampada Borkar | Teacher Grade I | Business Studies |
| 16 | Ms. Manjiri Patil | Teacher Grade I | Marathi & Sanskrit |
| 17 | Ms. Prajakta Bhosale | Teacher Grade I | Hindi |
| 18 | Ms. Marianela Mascarenhas | Teacher Grade I | Chemistry |
| 19 | Ms. Sushma Savaikar | Teacher Grade I | Mathematics |
| 20 | Ms. Kshama Khandeparkar | Teacher Grade I | Physics |
| 21 | Ms. Shweta Sawant | Teacher Grade I | Business Studies |
| 22 | Mr. Umesh Naik | Teacher Grade I | Konkani |
| 23 | Mr. Praveen More | Physical Education Teacher | Physical Education |
| 24 | Ms. Adelia Fernandes | Physical Education Teacher | Physical Education |
| 25 | Ms Lalan Palyekar | Teacher Grade I | English |
| 26 | Ms. Zahida Shaikh | Teacher Grade I | Hindi |
| 27 | Mr. Premanand Naik | Teacher Grade I | Marathi |
| 28 | Ms. Mrunali Talkar | Teacher Grade I | Physics |
| 29 | Ms. Reema Haldankar | Teacher Grade I | Economics |
| 30 | Mr. Pandurang Gawade | Teacher Grade I | Geography |
| 31 | Mr. Prabhakar Majik | Teacher Grade I | History |
| 32 | Ms. Vaibhavi Desai | Teacher Grade I | Biology |
| 33 | Ms. Medha Prabhudesai | Computer Teacher | Computers and Information Technology |
| 34 | Ms Aruna Sawkar | Computer Teacher | Computers and Information Technology |
| 35 | Ms Maria Pereira | Computer Teacher | Computers and Information Technology |
| 36 | Mr Laukik Prabhu | Contract Basis | Computer Science |
| 37 | Ms Jovita Ferrao | Contract Basis | Accountancy |
| 38 | Ms Shameen Kengalgutti | Lecture Basis | Chemistry |
| 39 | Ms Zina Oommen | Contract Basis | English & French |
| 40 | Ms. Neha M. Matkar | Lecture Basis | Economics |
| 41 | Mr. Amresh V. Naik | Lecture Basis | Political Science |
| 42 | Ms Suman Y. Timble | Lecture Basis | Accountancy |
| 43 | Ms Deeksha Dessai | Contract Basis | English |
| 44 | Mr. Dale Dias | Lecture Basis | Physics |
Vocational Stream 2021-22
| Sr.No | Name of the Teacher | Designation | XI | XII |
| --- | --- | --- | --- | --- |
| 1 | DR.SHANTANU A.GAUNS | Full time Tr. | BEED, COM |  DEC |
| 2 | Ms. JESSIE J. PEREIRA | Full time Tr. | BA | GFC, EVS |
| 4 | Ms. PRATIMA J. JOG | Full time Tr. | A/C | B.A., A/C |
| 5 | Ms. TRIPTHI SANTOSH | Full time Tr. | GFC, EVS, IA | |
| 6 | Mr. AJAY M. DONGRE | Full time Tr. | MATHS | IEI,ACE |
| 7 | Ms. DIPAWALI D. BORKER | Double Part t.tr. | OA,COMPUTER |  OA |
| 8 | Mr. SIDDHESH S. DESAI | Double Part t.tr. | PHYSICS | BEEWP,EMWP |
| 9 | Ms. CHANDANI SHEIKH | Double Part t.tr. | CS,GFC(ET) | CS |
| 10 | Ms. UTKARSHA TUENKAR | FULL TIME TR. (CONTRACT BASIS) | FM | IA,C.A. |